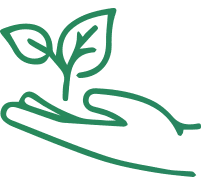 Donate a native tree
In Cultiva, you have the opportunity to contribute to our Corporation by giving greeting cards to commemorate births and celebrations, cards of condolence or thank you cards. Each card you purchase is a native tree with the name of the person you choose. Each tree will be watered and cared for by Cultiva.
The cost of each greeting card or tree is 8000 Chilean pesos. You can choose the type of greeting card, and if you want a paper card or an electronic card. If you choose a paper card, shipping cost is 2500 Chilean pesos that will be added to your checkout and your card will be sent via certified mail. The estimated delivery time will be 5 working days within the Metropolitan Region. Only available via payment by webpay or Chilean bank transfer.
Adopta un árbol – Nacimiento