Objective
The objective of socio-environmental education is to learn in collaboration with people and the environment.

Every moment is an opportunity to learn, and these opportunities increase when people are in outdoor settings; so outside of the classroom, there is no limit. This is why the educational programs created by Cultiva includes actions outside: of the classroom, of the office, or of the university. Humans are social beings and we have three faculties to develop during our lifetime: thinking, feeling and will. These faculties go hand in hand and make us what we are. In Cultiva, we want to resort to these faculties and use them in socio-environmental education to change the world.
One of the main purposes of Cultiva is to create outdoor learning spaces, using the reforestation of native trees and the transformation of different spaces. We are being "educated" by instructional materials, as much of the education we receive nowadays comes in the form of books, images, textbooks or videos. The experiences provided by Cultiva allow people to experiment with what it feels like to plant a tree, create spaces, and built furniture as a style of learning. We want to transform spaces and people.


Methodology
Our methodology includes these principles and faculties, therefore it's based on questions and answers, thinking, observation, and mostly on taking action.We share our ideas with the Waldorf education and the Anthroposophy philosophy, as they show the importance of letting people act and exercise their free will for the common good.
We make sure to create meaningful experiences that contribute to acquiring significant learnings and, in this way, each area assimilates these ideas. We are primarily in contact with seventh graders, but we have also worked with university students and people with other educational levels.
Reforestation for learning
The participatory reforestation that we carry out with education establishments has a pedagogical program that contemplates a workshop in the classroom first and then a reforestation activity in the field.
We help people to connect with nature through participatory reforestation. The purpose of this activity is for people to commit to taking action on climate change, and to learn about the importance of native forest and environmental issues.
Recycling and Clean-up days
The recycling and clean-up days are environmental actions which also have an important educational value.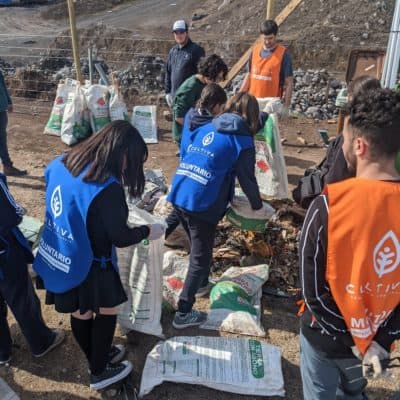 We organize recycling and clean-up days to understand the importance of waste management and public participation. This allows us to see how it is our responsibility when waste generated by people moves from one place to another. We work on different issues, such as waste management, consequences of waste generation, home composting methods. While we work we encourage an atmosphere of teamwork and motivation, and we teach how to identify different materials and how to recycle.
Discussion Groups and Workshops
Discussion Groups: We organize discussion groups to talk and learn about socio-environmental issues, such as the use of water, sustainable production, clean energy, environmental volunteering, good practices in different contexts, and native forests.

Workshops
We organize workshops to learn about environmental issues and how communities can take action on them. These issues include waste management, ecosystem services of native forests, urban food gardens, and ethical consumerism.

180
Educational Establishments
more than 18 thousand
School-age Participants
Reforestation for PCE AMB Renca
In this carbon offset program (in Spanish Plan de Compensación de Emisiones, PCE) 127 students participated from different grades, from public and private schools. The program consisted of two parts: the first part was a workshop on socio-environmental education inside the classroom, and the second part was a visit to Colorado Hill, in Renca, a couple of days later.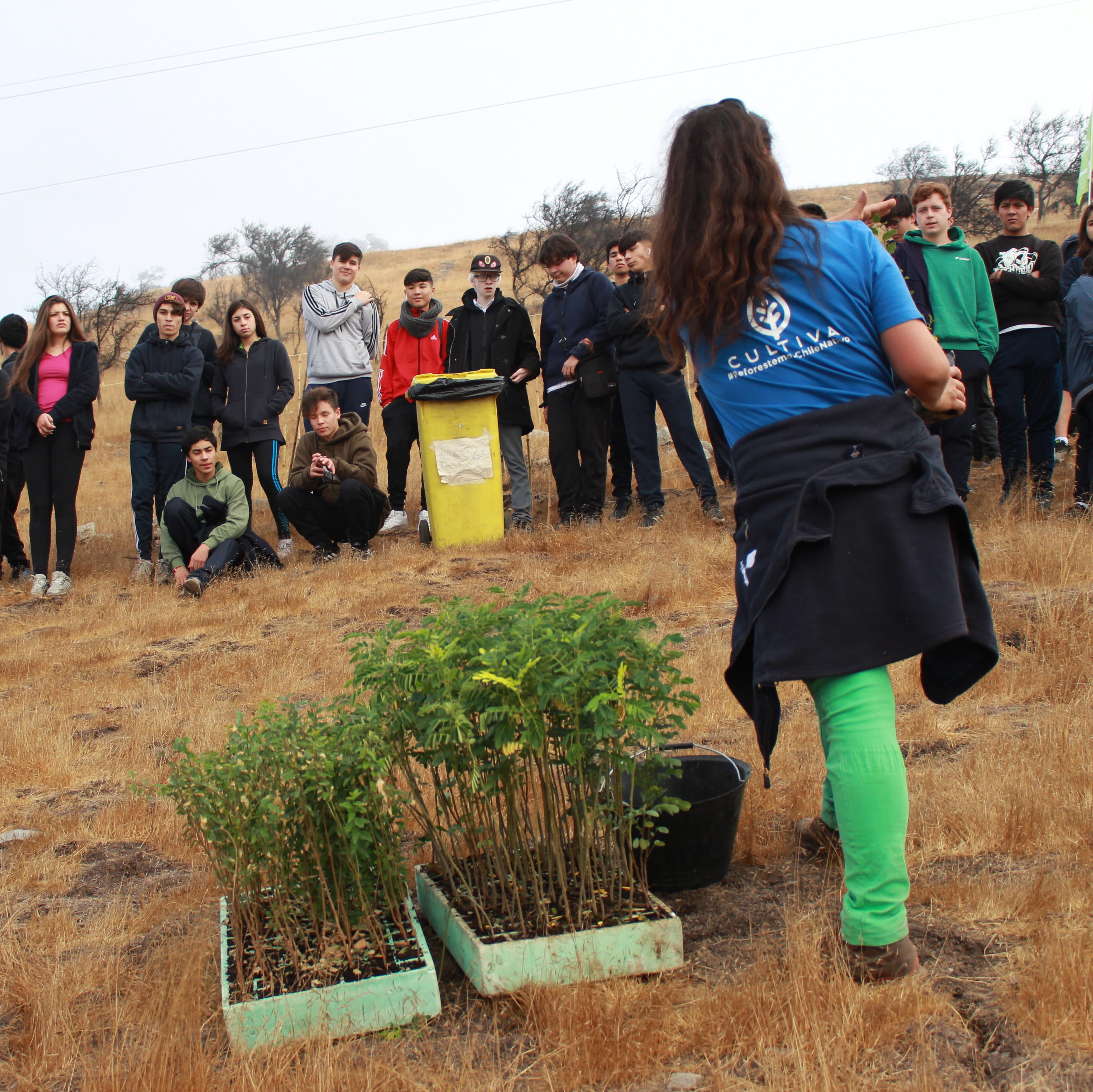 During the first part, we showed the participants how to plant a Quillay tree at their school, and how to take care of it. While on the field, the students were welcomed and divided into groups led by a supervisor whose work is to encourage teamwork, teach the value of reforestation and answer questions. At the end of the workshop, students are encouraged to reflect and evaluate the activity and see their results.

If you want to be part of these experiences, please write to [email protected]

Environmentat Education Trial, Colorado Hill
Project funded by Google Community Grants to create an educational trail in Colorado Hill.
In this project, 217 students from Quilicura and Renca planted native trees along the trail. There are marked stations with five different themes: water, fire, air, earth and life. Each one of them conveys information about this hill. There are QR codes on each station to get more information, and there is an activity book available to download on Cultiva's official website.
Handrails, seats and sunshades were added to improve accessibility of the trail.
The path is freely accessible and can be carried out without a guide as you can download on the Cultiva education webpage the activity book of the trial and other complementary materials.
If you want to organise an outing to the trial, you can write to us at [email protected]
Project financed by Google Community Grants.
How can I participate?
For more information about how to support social environmental education in your school, company, organization or community, please write to [email protected].